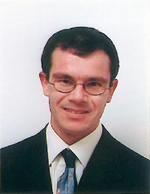 Jean-Pierre DUVAL - 35 years old - is the founder and the Chief Executive Officer (CEO) of Up ! Company. He found the original concept of Up ! Application System, while observing the information system policy of large firms. He designed Up ! 5GL, high-leveled, pseudo-natural, extensible and self-defined language. He also wrote the first releases of Up ! Compiler and Up ! Virtual Technical Machine.

With a mind of Business Developer, his objective is to build a strongly famous and worldwide-oriented group for its products and its services and creating value for each stakeholder.

Jean-Pierre DUVAL was graduated from the National High School in Applied Mathematics in Grenoble (ENSIMAG) in 1991 - National Polytechnic Institute of Grenoble (INPG).
He got also the same year a Enhanced Degree (DEA) in Artificial Intelligence (IA), specializing him in automatic programming and expert systems.
He was also graduate with an Executive Master of Business Administration (MBA) from EM Lyon while attending the part-time education program between 2001 and 2003. He received the special award Major in Corporate Restructuring.

Before creating Up ! Company, Jean-Pierre DUVAL was partner in Kallisto Informatique - bought out by the Adulis group in January 2003. Member of the Board, he was the Director of the Business Unit dedicated to Ksl Reports, the reporting and printing solution for large firms.