Discover Up ! Application System Offer
Up ! Application System is the sole solution allowing major companies having an IT policy that is truly aligned on the corporate strategy in order:
To reinforce the competitive advantages.
The key allowing the firm creation value for all the stakeholders is to preserve and to develop the competitive advantages of the firm in a sustainable way:

By favoring the differentiation that is valued by clients.
With a competitive operating cost.




By minimizing the Total Cost of Ownership (TCO) of the information system.
Integrating the know how, respecting the corporate culture and offering a incremental setting-up solution are the keys for successful, short and low-costing projects for which the Return On Investment (ROI) will be quick.


By contributing to the operational efficiency.
Flowing right information at the right time to the right man allows to key people to take the important decisions on time.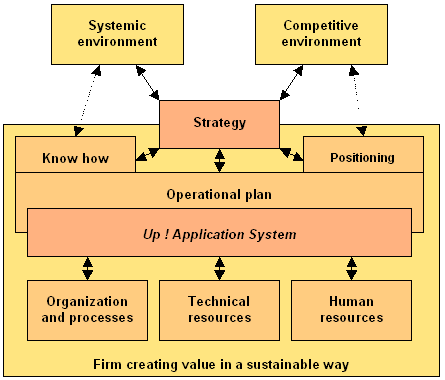 Up ! Application System is the software leverage that allows firms to create more value while stabilizing some turbulences of the environment in order to make last their businesses:
Organizational axis.
Let's change your organization, your processes or your power delegation without your information system be a brake to your strategy and your creative projects.


Technical axis.
Let's change the technical software on which your information system is based according to the opportunities offered by your suppliers and without any supplementary integration cost, while keeping the functional definition of your business applications.


Cultural axis.
Let's change the geographical deployment of your information system according to mergers, acquisitions or buy-outs and without any supplementary adaptation cost, while respecting the culture of your new employees.

Our positioning is Strategy-to-Operations (S2O)
What Is the Up ! Application System Offer?
Discover the Up ! Application System offer through the following topics:
What Is the Origin of Up ! Application System?
While consulting origin of the project, you will understand why Up ! Application System is fully enrolled into a process-driven way.

While having a look to focusing centers of major stipulators, you will evaluate how much Up ! Application System is fitting the emerging key points.
Would You like To Know More About?
If you would like to have further information, do not hesitate: